| | |
| --- | --- |
| Founded | Founded in 1958 in or near West Town: Ukrainian Village |
| Founding story | Formed in the Ukrainian Village section of West Town. |
| Affiliations | Give details |
| Colors | Dark blue |
| Color usage | Light blue |
| Primary ethnicities | White (Ukrainian) |
| Symbols | Skunk and Machine Gun |
| Symbol usage | Skunk with machine gun |
| Status | Active |
In the Ukrainian Village neighborhood a gang called "Chi-West" started in the year 1958.  This gang of Ukrainian greasers that were the sons of immigrants named their gang after the intersection that started at which was Chicago Avenue and Western Avenue, a very busy intersection in the neighborhood.  Chi – West was formed because this was the time period when Puerto Rican migration first arrived in neighboring Wicker Park and East Village.  The entire community of Ukrainian Village did not want Puerto Ricans moving into their neighborhood, but Chi – West was a group that took action in this matter.
At first Chi-West was just a group of drunken greasers that caused trouble and fought with other greasers but starting in the year 1958 their role on the streets became protection of the neighborhood.  In the year 1959 several more Puerto Ricans migrated to Wicker Park, West Humboldt Park and East Humboldt Park which were neighborhoods on the east and west of Ukrainian Village.  The Puerto Rican gangs the Young Lords moved into these three neighborhoods from Lincoln Park and the Latin Kings moved into Wicker Park and West Humboldt Park from the Near West Side.  The Latin Kings and Young Lords got together with some other new Puerto Rican gangs like the Spanish Lords. The Puerto Ricans banded together to fight off the white greasers and now Chi-West was fighting several Puerto Rican gangs as they teamed up with Playboys and Ventures and Gaylords.  Many Puerto Rican older gang members will attest that Puerto Rican gangs formed in between 1959 and 1964 as way to defend themselves against Chi – West, Gaylords and P.V.Ps.  Chi – West especially was known to roam all over West Town attacking several Puerto Rican gangs which seemed to effectively discourage any Puerto Rican settlement in Chi – West neighborhood because they saw what damage Chi – West could do in other areas.
During the 1960s decade Chi-West built themselves up to be one very tough greaser gang and they spread to just about every street corner in the Ukrainian Village neighborhood, even though Chicago and Western was their first hood and one of their biggest hoods they could be found just about everywhere in the neighborhood.  The entire neighborhood was also fighting against migration by keeping the neighborhood financially stable and encouraging everyone not to move to free up homes.  If there were any open homes Chi-West would make a Puerto Rican family very uncomfortable with living in the neighborhood.
In the year 1971 the white greaser gangs of the north side streets got together in response to the growing number of Puerto Rican gangs that they all hated worse than any of their white greaser enemies.  The white gangs made an agreement not to war with each other in an agreement called the "WPO" or "White Power Organization."
In the midst of the WPO agreement an alliance formed among five major white gangs as Chi-West was offered a part of this partnership known as "UFO" or "United Five Organization" in 1973.  Chi-West actually hosted the meeting for the creation of the UFO at a building at North Avenue and Damen Avenue which is in Wicker Park, it was said this meeting had Chi-West members outside guarding the meeting with crossbows.  Even though legend has it that Chi-West held the meeting Chi – West never officially joined the UFO.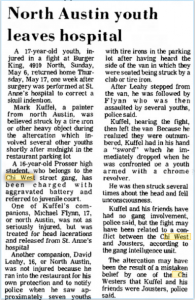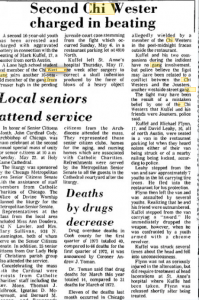 By 1975 the Gaylords and Simon City Royals and Insane Popes were at war now; therefore, the UFO gangs needed protection in their expansion while facing all these Latinos and also the giant Royals and Popes gangs.  Latinos, Royals and Popes were not in Ukrainian Village because Chi-West would not allow it, but Chi-West did not invade other neighborhoods; therefore, rivals were less inclined to want to take territory in Ukrainian Villagefor retaliation.
Ever since 1964 Puerto Rican families have always tried to take their children to Frederic Chopin Elementary School at 2450 W Rice St (Campbell and Rice) and at Columbus Elementary School at 1003 N Leavitt St (Augusta and Leavitt) as these families resided in nearby East Humboldt Park but Chi-West hung out in front of these schools all the time and if they saw any kids that were members of Puerto Rican gangs they would smash them.  It would get so bad that Chi-West would even have times where they would smash any groups of Puerto Rican kids this prompted many days where the school would be closed.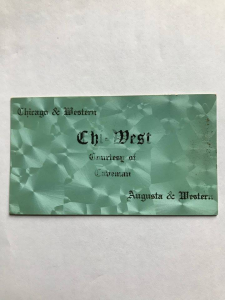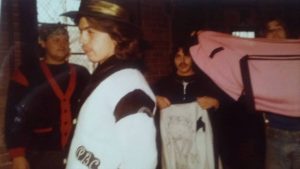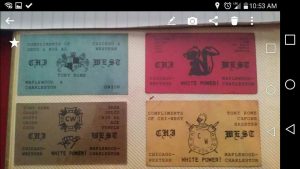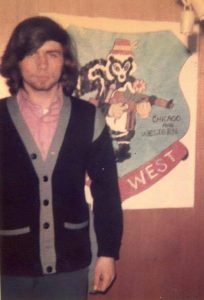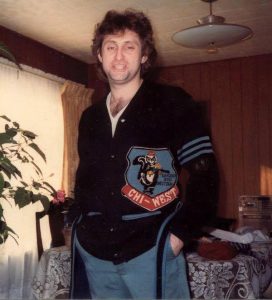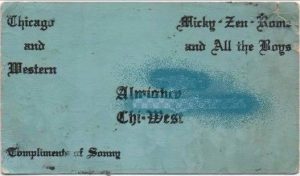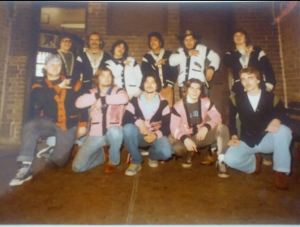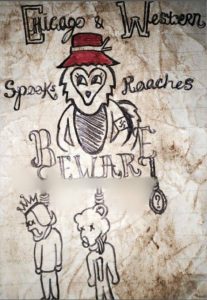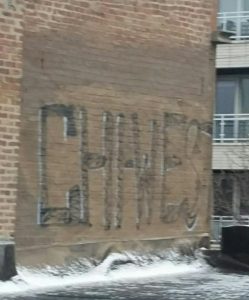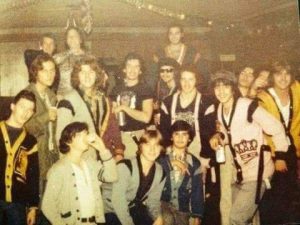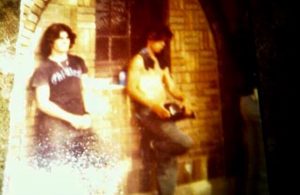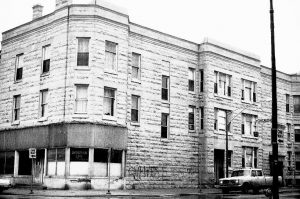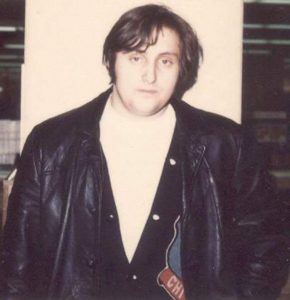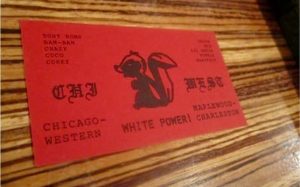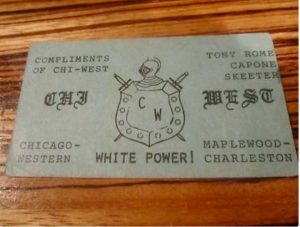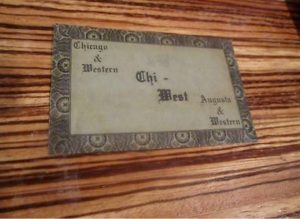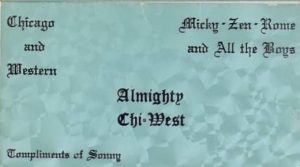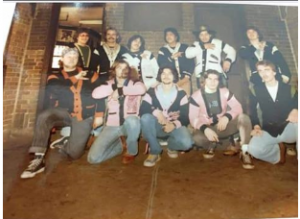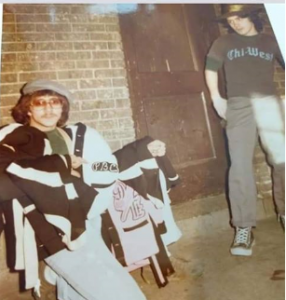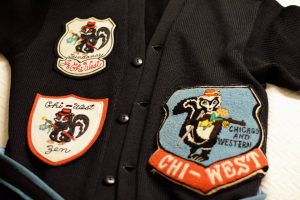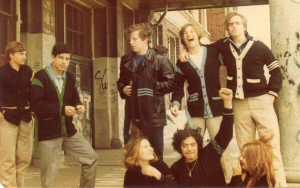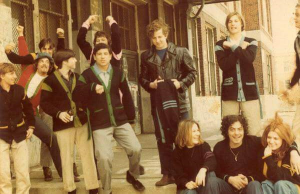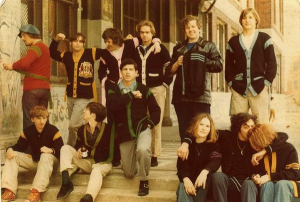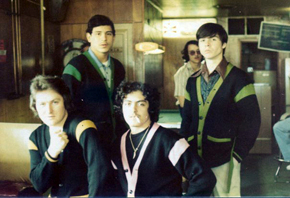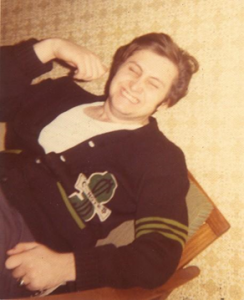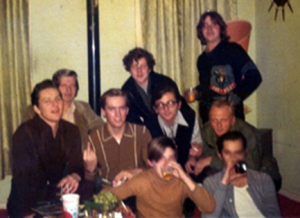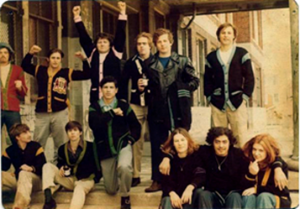 Chi-West would continue to rule the Ukrainian Village neighborhood throughout the 1960s, 1970s and 1980s.  Some legendary members that were also leaders were Mickey, Tony Rome and Jack Darrell "The Jew" Farmer.  Over time Chi-West established ties to the Ukrainian Mafia and especially by the mid-1980s much of the gang had worked their way into the Mafia and once the former Vice President of Chi-West Jack Darrell Farmer also known as "Jack The Jew" became a high up member of the "Little Mafia" Ukrainian mafia as he graduated to become the boss of the mob.
In 1984 Farmer was brought up on federal drug charges and spent less than 1 year of a 5 year sentence in prison.  Farmer was then on trial again for charges of murder, racketeering, conspiracy, extortion, burglary, obstruction of justice, robbery and narcotics trafficking totaling 108 counts in 1987.  As he was awaiting trail he fled with his wife to a town in Florida called Lantana on Drew Street where he worked in a public storage known as Publix Storage for $500 a week (Sun Sentinel, Rebecca Theim June 3, 1988).   Jack moved to Lantana not only to beat the charges but also because the Russian/Ukrainian Mafia has a strong presence in southern Florida.  On May 29, 1988 episode 17 of the popular T.V. show America's Most Wanted aired and one of the men they aired about was Jack Farmer as he was heavily wanted by the F.B.I.  After the episode aired one of Farmer's co-workers saw the episode and called the hotline and on June 1, 1988 Farmer was arrested and brought back to Chicago to face trial.  Farmer was convicted in 1989 and only given a sentence of 40 years with possibility of release after 23 years.  Farmer was relieved about his sentence and was actually only concerned about getting a pair of shoes for court.  In the trial they even said he ordered murders of others and one witness watched him shoot a man in the head at point blank range.  In the trial Farmer was said to order murders and also home invasions to finance the cocaine ring he was operating.  The prosecutor James Schweitzer was not only disappointed with the sentence he was also afraid for his life because Farmer might kill him (Chicago Tribune Jack Houston March 1, 1989). This rise to power for Farmer and other former Chi West members coincided with the extinction of the Chi-West gang showing that Chi-West evolved into organized crime figures by the mid-1980s, after that Chi-West was not heard from again and if the Little Mafia is still around in Chicago not much else was heard from them since the trial of Jack Farmer.  Chi-West can go down in history as one of the toughest white gangs in Chicago's history.
There is now a revived element of Chi-West currently active
Please send in 1950s, 1960s, 1970s and 1980s pics!  1950s and 1960s pics will be especially appreciated!
Questions:
 Who was the founder of Chi-West?  What happened to him?
Who were the leaders before Mickey and Jack and what years were they the leaders?
What exact year did Chi-West go extinct?