Founded
Founded in 1952 by Andy Bledron in or near Humboldt Park (West Humboldt Park)
Founding story

Founded in West Humboldt Park near Drake and Wabansia. Simon City founded by Andy Bledron.

Formerly known as

Simon City 1952-1968; Royals 1952-1968; Simon City Royals 1968-1992

Affiliations
;
;
;

Colors
Black and Royal blue
Primary ethnicities
Mixed
Ethnicity notes
Formerly primarily white
Symbols
Rabbit Head, Lion, Shield, and Cross
Symbol usage

Rabbit head with bent ear, two lions, shield, cross with three slashes above it, pitchfork 1978-1992

Status
Active
The Simon City Royals' history goes back to the year 1952 in the West Humboldt Park neighborhood.  It was in this year that Puerto Rican migration first arrived with a small wave in the West Humboldt Park community.  This caused a culture shock in the area as it was seen that this was a threat to the American way of life; therefore, small greaser gangs began popping up in the neighborhood.  One of these greaser gangs to appear was the Simon's City gang at Simon's Park located at 1640 N. Drake Ave which is at the intersection of Drake and Wabansia founded by Andy Bledron (was killed in the Vietnam war).  At that same street corner the "Royals" was another greaser gang that hung out in that park.  Both of these gangs were of Italian ancestry and were allied clubs according to oral tradition.  They opposed the earliest Puerto Rican migration into the area and fought off any small Puerto Rican clubs that formed in the area or other white greaser clubs.
These two greaser clubs were the first gangs in the area so they ended up scooping up the best of the best in Humboldt Park.  It actually took a few years for other greaser clubs to start up over in the neighborhood like the Jokers that started in 1956 at North Ave and Washtenaw.
The first known documentation of the gang called the Royals was in 1959 (could have been sooner) when the Hard To Reach Youth Project done by the Welfare Council Of Metropolitan Chicago first started working with the Royals at the Association House at 1116 N Kedzie Ave in the West Humboldt Park neighborhood.
The Simon City gang was known to be ruthless especially by the 1960s when they operated relatively small in size but still mainly stuck with recruiting members that were large in size, tall and often muscular.  The Simon City gang was also very secretive and when the police would catch up with them, they denied they were even in a gang.  It is said that the Simon City gang had influences from the Italian Mafia (Chicago Outfit).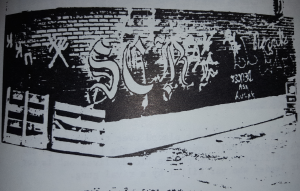 In 1964, the Latin Kings opened up their first piece of turf at the street corner of Beach and Spaulding in the West Humboldt Park neighborhood and by 1964 they were already spreading like wild fire in Humboldt Park largely because of increased Puerto Rican migration, both the Simon City gang and the Royals were battling Latin Kings heavily.
in the year 1968 a Simon City gang member from Humboldt Park named Rashad Zayed moved to Lakeview with his family.  Zayed was 19 years old at the time and was of Arab decent which is why he was nicknamed "Arab."  Arab created the "Simon City Royal" name right after he moved to Lakeview and back in Humboldt Park Simon City and Royals gangs merged to be a part of the Simon City Royal banner.
Arab had assumed leadership of all Royals by 1968 and led the Royals to congregate at a local restaurant right across from Lakeview High School at 4015 N Ashland Ave at Ashland and Irving Park Road.  Arab's goal was to take over Lakeview High School.  Arab led the Royals to smash on other gangs in the area and once he would cripple the rival gangs he would approach many of their members and recruit them in a friendly way.  See, most large gangs like Vice Lords, Egyptian Cobras (Mickey Cobras), Black P Stones and Latin Kings would smash on their enemies then harass them into joining with threats and force, instead Arab would invite them to hang out or party with the Royals which caused many upon many of Lakeview gangs to absorb under the Simon City Royal banner, he also took large parts of gangs like the Aristocrats, The Corps and the Ashland Vikings.  This is why Simon City Royals are often only given credit with forming in 1968 because they did not start to get really big until this point in time after Arab took over and had a highly effective, charismatic method of recruitment which really put the Royals on the map.
By 1968, the Lakeview neighborhood began to get flooded with more Puerto Rican migration.  Puerto Rican migration was making its way back east 8 years after the small Lincoln Park community was first being renovated and migration was rerouted west into Wicker Park and Humboldt Park.  Now it was spreading north and east of those neighborhoods by the late 1960s and that was when a need for Royals became strong for neighborhood white youths in Lakeview who were being picked on by Latin Kings, P.R. Stones and Latin Eagles.  Lakeview High School was the main territory that Arab wanted and he also set up a headquarters at the intersection of Paulina and Cornelia.  Another set was also set up at the intersection of Waveland and Greenview.
In 1971, the white gangs on the streets of Chicago felt they were the victims against the much larger Latino and black gangs in their neighborhoods.  Latino migration was a major issue especially on the north side and northwest sides where old white neighborhoods were changing.  Latin Kings were becoming a real power house and such gangs as Latin Eagles, Imperial Gangsters, Latin Disciples and Spanish Cobras were beginning to rapidly recruit.  It was then time for a major truce among white gangs called the "White Power Organization."  This truce effectively stopped wars between white gangs and helped several white gangs grown much larger.  One of those gangs was the Simon City Royals.
By 1972, as the WPO was more solidified than ever the Royals were able to open new turf from Lincoln to Racine and Irving Park Road to Belmont which pushed the Royals' territory into the western part of the Wrigleyville neighborhood which is a neighborhood inside of Lakeview. It was at this point in time when the Royals wanted to advance further south to one larger block south to Barry Ave and that was when the Royals ran into the newly formed "Hamlin Park Insane Deuces."
The Insane Deuces were a new gang that was formed from young gang members that used to be a part of a gang called the Barons or Junior Barons.  These guys in particular were former Junior Barons that were influenced by the Pilsen area gang known as the Morgan Deuces.  Now they had their own gang that was an offshoot of both Morgan Deuces and Junior Barons known as the Insane Deuces.  And by 1972 they had expanded into Hamlin Park from the Lathrop Projects in the southwest.
The Deuces were not easy to fight, in fact, the Royals could not win the war against them, maybe battles but not the all around war and this was frustrating especially the fact that the Deuces were allies with the much larger Latin Kings, while the Royals only had the Paulina Berry Community (PBCs) to back them up which was a much smaller gang than any of those other 3 mentioned.
By 1973 the Royals' growth was stunted because of their wars over Hamlin Park (Barry and Damen) and of course the growth of the Latin Eagles.
On July 10, 1974 Rashad Zayed A.K.A Arab was shot and killed around the 1900 Block of West Melrose Ave in the North Center neighborhood by two 17 year Insane Deuce gang members that deserted the U.S. Marine Corps around that time (Chicago Tribune July 13, 1974 P.23).   Arab had a new girlfriend that lived in this area and he would not let Deuces and Latin Kings get in his way of love.  On that Wednesday July 10, 1974 Arab had just pulled into his girlfriend's garage when the two gang members jumped out and shot him as soon as he exited the vehicle.  Even though the shooters were arrested and charged, the charges did not stick and the two were freed; therefore, I cannot say for sure these two did it but the streets knew the Insane Deuces did it.
In 1974, Timothy "Bimbo" Gilfillan (Hagedorn, The Insane Chicago Way P. 246) took over leadership of the Simon City Royals and brought them into a new chapter.  Bimbo was charismatic and knew how to smooth over problems and was well liked, he was also able to open new sets.  Bimbo established relationships with gangs such as the Insane Unknowns and Black Disciples, yes the Insane Unknowns, I know it is hard to believe but before Folk and People, Insane Unknowns hated Latin Kings, Latin Eagles and Insane Deuces with a passion; therefore, Royals and Unknowns had common enemies.
A Black Disciple named Michael Motten A.K.A Motto (currently serving a life sentence for murder) moved to the area into Simon City Royal territory and began hanging out with Royals, Maniac Drifters and Insane Unknowns and, before you knew it there was a circle of friends that had Unknowns and Royals hanging out.  It was also at this time in 1975 that the Simon City Royals first got involved in the weapons business which armed more members and also brought income into the organization.
In 1975, Bimbo brought immediate expansion outside of Lakeview into the Albany Park neighborhood at the intersection of Lawrence and Kimball and they also congregated at Leland and St.Louis.  Albany Park was a deteriorating neighborhood with run down abandoned buildings, drug addicts and prostitution.  Puerto Rican migration began moving in here in the early 1970s and by the mid 1970s it was rampant and of course Latino gangs soon were conquering the area and bullying the youths in the area, it was at this point that there was a demand for Royals and their goal was to conquer Theodore Roosevelt High School at 3436 W Wilson Ave.
An interesting thing about the Albany Park Royals is that they got along with the Albany Park Gaylords because both gangs were white and both had issues with Latin Kings and other Latino gangs.
On Saturday April 12, 1975 Bimbo and his friends were hanging out in front of the apartment buildings on that street corner of Leland and St. Louis in the Albany Park neighborhood.  These Royals had just finished cleaning up gang graffiti a while ago and were admiring their work when a group of Latin Kings came by and started causing problems.  A little while ago Bimbo was trying to bring peace with Latin Kings but it only lasted a couple weeks due to Latin Kings still trying to steal Simon City Royal sweaters.  One of the Latin Kings known as William "Pothead" Lewis had a gun on him.  The Royals then went and got paint sticks from inside the buildings to use as weapons and chased the Kings down and that is when Pothead fired his gun causing the Royals to Scatter, he ended up shooting Bimbo 4 times, killing him on that Saturday night on St. Louis and Leland.  William Lewis was later convicted of the shooting but since there were circumstances that could point to self defense he was only given 20-25 years for the murder (People V. Lewis, June 24, 1981).
Bimbo was murdered in the streets and not too long after his brother Jeff "Tuffy" Gilfillan was killed on Paulina street.  Both brothers were leaders and now both of them lie dead.  Now that these brothers were gone the Royals were left without a leader for the next few years.  At the same time in 1975 Larry "Larkin" Morris was gunned down by Gaylords in the streets.
In that same year of 1975 the Gaylords and Royals started to feud and it quickly escalated to the point when the Simon City Royals killed a Gaylord leader nicknamed "Wizard" as they killed him execution style by some railroad tracks behind Kilbourn Park in the Hermosa neighborhood.
Now Almighty Insane Popes and Simon City Royals both hated Gaylords, Latin Kings and Insane Deuces with a passion.  With the hate of the Gaylords soon followed a hatred of the entire U.F.O unity which brought the Royals back into war with the C-Notes that had died out in 1971.  New branches rapidly popped up all over the north side including Albany and School, California and Fletcher and Drake and Wolfram in the Avondale neighborhood.  The Royals also ventured into the Lincoln Park neighborhood and opened up at Fullerton and Southport. The Royals also opened up a set in the Rogers Park neighborhood at Clark and Farwell, and the Royals also opened a new one in Albany Park at Central Park and Wilson.
It was a time of great expansion but it was hasty expansion and often unauthorized for certain sets to pop up.  Many of times a large group of youths would get together and just start claiming Simon City Royal even though no one heard of any of them from any sanctioned sets; nevertheless, many of these sets became official later on because these guys proved themselves.
By 1976 the Royals were now taking in many members of the Almighty Insane Popes because they were left without a leader after the death of Larry "Larkin" Morris in 1975.  The difference was the Royals functioned better without a leader than the Popes did and Popes appreciated that and flipped to being Royals.  It was also at this time in 1976 that the Royals began heavy arms trades with the Black Disciples from the south side.  An all black street gang dealing weapons with an all white street gang, it was crazy thing to see back in 1976.
The biggest shocker of 1976 was the war that started with the Insane Unknowns out at Fullerton and Southport.  Fullerton and Southport was the only Simon City Royal set active in the Lincoln Park neighborhood by 1976.  The Insane Unknowns were getting quite big over in Lincoln Park and expanding outside of Leavitt and Schiller in Wicker Park.  The notorious Ashland and Wrightwood set had opened up in Lincoln Park and it was at this point where the Royals were objecting to such an Insane Unknown presence in the area.  1 year earlier Simon City Royal leadership of Bimbo and Tuffy kept good relations with the Unknowns and kept them as good friends but now that leadership was gone and the Southport and Fullerton Royals were out on their own with their own rules, after all, every faction of the Royals acted in a renegade fashion in these years.
A Gaylord known as "Deadeye" was tired of being a Gaylord for some reason and wanted to flip to a Fullerton and Southport Royal which he did.  After he flipped he was hanging out with "Mr. Capone" on a regular basis who was the Insane Unknown leader at that time.  Deadeye's fellow Royals did not appreciate Deadeye always hanging out with him because Deadeye was a former Gaylord; therefore, known to change gangs.  It was time for Deadeye to prove his true loyalty to his new nation, so the Royals gave him a hard bargain, he was told either to kill Mr. Capone or choose death.  Deadeye and "Lil Kool" then went to go see Mr. Capone to hang out or to discuss how to stop the petty feuding between Unknowns and Royals, or at least that is what Mr. Capone thought this visit was all about.  To Mr. Capone's surprise the two were there to kill him and they did just that and because of this killing the Insane Unknowns went crazy and killed a Royal named "Bulldog."  After this happened war between Insane Unknowns and Simon City Royals became permanent and bloody starting in 1976.
During the late 1970s the Simon City Royals were on a war path smashing on other gangs with a wild, untamed fury.  They went up against Latin Kings, Insane Deuces, Gaylords, C-Notes, Taylor Jousters and Chi-West.  It was at this point that Royals ran into Spanish Lords over in Logan Square and war ensued right away.  Somehow the Royals came into contact with the Latin Brothers out of Belmont-Cragin and they went at it hard.
By 1978, the Royals were entangled in violent gang wars that were costing the Royals their freedom as they found themselves filling up the Illinois correctional facilities.  Without leadership, wars were rampant and bloody and allies now became foes such as Gaylords and Insane Unknowns.  It was also at this point in time when the Royals could no longer hold onto their motherland at Drake and Wabansia at Simon Park.  The reason the Royals left was not really because they got ran out by other gangs, it was because there were not enough whites in the neighborhood anymore and back in these days the Royals had a white power stance.  Drake and Wabansia was no more after about 25 years of holding that corner down.  1978 was now looking a little rough now that many Royals were locked up and the motherland had at last fallen.
On November 11, 1978 a meeting occurred at Pontiac correctional facility for the highest ranking members of the most powerful gangs in Chicago and at this meeting were representatives of the Simon City Royals.  The idea was mainly the brainchild of Black Gangster Disciple leader Larry Hoover to create two separate alliances that would act like two different mob organizations.  This would effectively organize gang wars and help bring in better business for the inmates and maybe even help with street affairs.  The Black Disciples joined the Folk Nation and at one time the Royals assisted the BGDs back in 1973 with a Vice Lord problem so they all knew each other and were allies to begin with so the Royals were one of the first ones to sign up to be a part of the Folk Nation.  Latin Disciples, Spanish Cobras, Imperial Gangsters and Orquestra Albany joined the Folk Nation but wars with those gangs were not a big deal to begin with so that was not a big issue, the only one tough to digest was being allies with the Latin Eagles but the Royals made it work especially since both gangs deeply hated the Insane Unknowns then Royals and Eagles actually became very close.  It all worked out because the Latin Kings, Insane Unknowns and Spanish Lords joined the rival People alliance, then two years later the Gaylords and Insane Deuces would join People as well, the Royals were on the right side.
In the late 1970s it was a tough act to follow joining the Folk Nation especially because Royals had past wars with Latin Eagles and Imperial Gangsters; however, things would smooth out going into the 1980s.
By the year 1980 the Simon City Royals had become one of the largest street gangs in the city of Chicago with now thousands of members, they were only a little smaller than the 4th largest gang the Gaylords.  It was now finally time that the Royals had some leadership after 5 years of being wild.  It was 25 year old Todd "Dillinger" (or Toddy) Brewer that stepped forward and assumed that leadership role.  Todd Brewer was able to bring all the sets together and prevent them from functioning with that "renegade" mentality.  Todd Brewer's reign was short lived and in 1983 he was shot to death by the Puerto Rican Stones in the Albany Park neighborhood. The P.R. Stones were now gunning for Lawrence and Kimball and this brought a vicious war with these Stones.
After Dillinger's death the Royals grew closer to their Folk Nation allies because the Folk and People nation alliance became official on the streets and was no longer only for prison.  It was at this point in time that the Royals began embracing their Folk Nation allies especially old foes like Latin Eagles and Imperial Gangsters.  It was also about this time when Simon City Royals began shedding their white power stance and began letting in members of all races especially Latinos and blacks.
By the late 1980s Simon City Royals began having issues with older members becoming drug addicted or key members imprisoned, this drastically shrunk the organization and resulted in a loss of territory over the course of the late 1980s up to the mid 1990s.  The Royals also began engaging in bloody interalliance wars with other Folk Nation gangs eventually, and by the early and mid 1990s wars stated with gangs like Spanish Cobras and Maniac  Latin Disciples.  These interalliance wars were very costly especially the war with the Spanish Cobras which became legendary.  The Simon City Royals were now throwing down the pitchfork gang sign that they had been waving around and tagging since 1983, now the fork was to go down.
The Royals linked up with the Imperial Gangsters and Latin Eagles to create the "Almighty Familia" in 1992 which opposed both the "Insane Familia" and the "Maniac Familia" all within the Folk Nation.
100% of Simon City Royal presence vanished in Lakeview and Lincoln Park but that had a lot to do with gentrification in the late 1990s/early 2000s.  The CPD along with gentrification pushed the Royals out of Avondale eventually.  The Royals had expanded into the suburbs of Lyons, Brookfield and Cicero in the mid 1980s but eventually were pushed out by suburban police activity by the early 21st century.  The Royals did; however, spread in other states especially Mississippi where there are thousands of members.  The Royals in Chicago were eventually only holding territory in northern Logan Square and Albany Park.
Please send in old school pics.   1950s or 1960s pics will be especially appreciated!
Questions:
 Who was the founder of the Royals of Humboldt Park?  What happened to him?
What year did the Ashland Royals start and who was the founder?
Were Simon City and Royals indeed enemies in the earlier 50s, if not who did they fight with in the earlier 50s?
What year did Andy Bledron got to Vietnam?
Why didn't Royals become Maniacs or Insanes?  What prompted them to start Almighty with the Imperial Gangsters?