| | |
| --- | --- |
| Founded | Founded in 1959 by Alex Rain and Andrew Howard in or near Englewood |
| Formerly known as | Supreme Gangsters 1959-1966; Gangster Nation 1966-1969; Black Gangster Disciples 1969-1989 |
| Affiliations | ; |
| Colors | Black and Blue |
| Primary ethnicities | African American |
| Symbols | Winged Heart, Devil Horns, and Devil Tail |
| Status | Active |
The genesis of the Gangster Disciple nation dates all the way back to the year 1959, in the Englewood neighborhood at the intersection of 68th and Green. A young teen named Alex Rain formed the Imperial Gangsters (not related to the Almighty Imperial Gangsters Puerto Rican gang for up north). Another well-known co-founder was Andrew "Prince Dee Dee" Howard.  They were a small-time gang of street hustlers that wore the colors black and tan and used the symbol of a heart with wings. Englewood was a neighborhood that had fallen on tough economic times since the 1930s and they by the 1950s white flight began taking place that drained the local economy even more leaving several deserted and ran down homes and buildings.  By the late 1950s white flight accelerated and Englewood fell into get despair.  This brought about the formation of black street gangs and one of the first to form here was the Imperial Gangsters.
Another key organization formed that was pertinent to GD history, this organization was the Black King Cobras that formed in the Englewood neighborhood in August of 1960.  Rumor has it that Jerome "Shorty" Freeman founded the Black King Cobras but he was not born until 1951 making him only 9 years old back in 1960 (old enough to be a member but not a leader), Shorty was only a member of the gang in the early 1960s but not the founder. The organization was likely founded by Harold "Prince Money" Walker.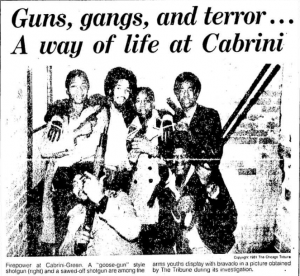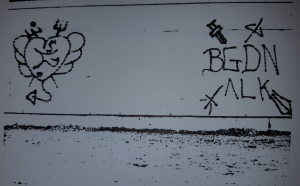 And the third component lies with Richard "Champ" Strong founding the Devil's Disciples in 1960 on the street corner of 53rd and Kimbark in the Hyde Park neighborhood also on Chicago's south side.  Strong led the Disciples until July of 1961 when he moved to Cabrini Green to found the Black Family Decues and David Barksdale took over leadership of the Devil's Disciples in July 1961.
David Barksdale was born on May 24, 1947 as Donise David Barksdale to Virginia and Charlie Barksdale in Sallis Mississippi.  He was one of 13 children that all moved to Chicago in 1957 and from there Barksdale eventually learned the ways of the street and by 13 he was the leader and founder of the Devil's Disciples street gang.  His second in command was Mac "King Blue Devil" "King Mac" Arthur.  Another high up Disciple was Dirk "Don Dirky" Acklin who is also accredited as a co-founder of the organization.
Now we have the beginning of the three parts that would eventually come together to form the Gangster Disciple nation we know today.  By 1962, the Black King Cobras and Devil's Disciples became close to one another as they shared the common enemy the Vice Lords.  The Devil's Disciples also began spreading their influence into the Englewood neighborhood around that time and started to conflict very heavily with the Black Stone Rangers led by Eugene Hairston.  The Devil's Disciples also very quickly captured the street corner of 49th and Dorchester (Kenwood Park) in the Kenwood neighborhood in 1960 then began to expand all around southern Kenwood and northern Hyde Park from 49th street to 53rd street and from Dorchester to Woodlawn Ave.  53rd and Kimbark would be the headquarters of the Disciples.  The Hyde Park territory was eventually eradicated by gentrification of more upper class residents that began taking over later in the 1960s.  But by this time the Disciples had spread about everywhere else in the area around there so it was no real loss; accept seeing the original headquarters of 53rd and Kimbark be taken away.  The Disciples very easily relocated the new headquarters to 63rd and Normal in the Englewood neighborhood in the mid-1960s and made Englewood their largest stronghold.
By 1963, there were about 50 members of the Imperial Gangsters just at 68th and Green alone. On that street corner a young boy named Larry Hoover lived there.  Just like many black youths growing up in Englewood through the years, young 12 year old Larry became infatuated with the gangster life of these gangsters that hung out right outside his window.  Larry's mother told him to stay away from those hoodlums but Larry did not listen and snuck out to go and hang with this gang, this eventually led Larry Hoover to join the Imperial Gangsters in 1963.  Larry Hoover was born November 30, 1950 in Jackson, Mississippi.  His family of 4 children and his mother moved to Englewood in 1955 when Larry was only 4 years old.  Englewood was always a neighborhood that was on hard times for many years even before African Americans migrated there, now the area was even more poverty stricken than ever which made staying away from the luring of gang life almost impossible for young Hoover.  A soon to be giant in the organized gang world started his career in 1963.
It was this same year of 1963 when David Barksdale first started hanging out with the very young Jerome Freeman and his Black King Cobras.  At this point in time Freeman was 12 years old and perhaps running the Black King Cobras alongside Harold Walker and Dirk "Kill Will" "Don Durkey" Acklin.  Also in this circle was Andrew "Dee Dee" "Prince Birdie" Howard who was a high ranking member of the Imperial Gangsters and co-founder who was 18 years old at the time.  Dirk and Freeman became very interested in the black power movement and began taking heavy interest in Black Nationalism rallies.
In 1964, Larry Hoover was then 13 years old and was interested in leading the Imperial Gangsters. He definitely had the charisma and the smarts to be a gang leader but now he needed to convince veterans in his crew that had been banging for 5 years now and were older than him that he could lead them all.  Andrew Howard was one of those veterans that was 19 years old and became quite loyal to the young Larry Hoover.  Opportunity came when Alex Rain was killed in the streets and Larry Hoover's mentor Andrew Howard helped Larry become the new leader of the Imperial Gangsters while Howard was second in command.  It was now at this point in time where Larry Hoover was in the circle of friends with Andrew Howard, Jerome Freeman, Dirk Acklin, Mac Arthur and Harold Walker.  They all had one major thing in common; they hated Black Stone Rangers, Vice Lords and Latin Kings.  After Larry Hoover took control of the Imperial Gangsters he renamed them the 68th Street Cobras.
In 1965, Jerome Freeman had found out that Larry Hoover had previously had sex with his girlfriend Wendy Jenkins.  Larry Hoover developed a relationship with her that lasted a long time but Freeman was angry that Larry betrayed him and got with her when Wendy and Freeman were together.  This started a war with the Black King Cobras and the 68th Street Cobras.  Freeman was spiteful of Hoover for a long time even though Larry would marry Wendy Jenkins and they had children together.  I'm not positive but I think the two eventually patched it up even though their organizations were at war.
On January 6, 1966 the Black King Cobras and Black Disciples came together along with several other street gangs to form one large super gang known as the "Black Disciple Nation."  The Black Stone Rangers and Vice Lords were growing out of control all around them and forming this merger was the best way to combat common enemies.  19 year old David Barksdale was the King of this nation and he was known on the streets as "King David."  Four months later the Black P. Stone Nation alliance was formed by Eugene "King Bull" Hairston that was a merger of several gangs that had a deep rivalry toward Disciples.  Now there were three African American super gangs on the streets by 1966 and this could mean trouble for the Supreme Gangsters and many other gangs that were not taken into the BPSN or BDN.  This prompted 15 year old Larry Hoover to form the Gangster Nation, making himself and Andrew Howard as the leaders of the organization.  In order to show Larry Hoover's group was the head of the Gangster Nation he renamed the 68th Street Cobras to become the Supreme Gangsters.  So back in the later 1960s you had Vice Lords, Black P Stones, Black Disciples, and Gangsters.  Jerome Freeman still hated Larry Hoover with a passion and Supreme Gangsters and Black King Cobras still fought it out.
In 1966, the Black Disciple nation became heavily active in the community opening fund raisers, legitimate businesses, enforcing school policies to keep kids in school.  There are many sources on the internet that can go into great detail about all the legit things the Black Disciple Nation and the Black Gangster Disciple nation did back in the 1960s that is very easy to find; therefore, I do not need to go into extended details about it but there was some positivity that came out of all of this.  Maybe some of that money went to illegal activities but a great deal of it went into helping the community.
In 1967, the problems between Black King Cobras and Supreme Gangsters heated up further as the two gangs fought in a very vicious and legendary brawl.  Larry Hoover's Supreme Gangsters overtook Jerome Freeman's Cobras and many Cobras immediately changed their alliance from being Cobras within the Black Disciples nation over to being Supreme Gangsters in the Gangster nation despite the fact that the Black Disciple nation was much larger.  It was also at this point in time when a major ripple happened within the Black Disciples. On November 11, 1967 Harold "Prince Money" Walker had Mac "Blue Devil" Arthur killed over the fact that Prince Money was all about selling drugs and making money for himself and the Black Disciples while Mac Arthur was heavily opposed to that.  The Black Disciple nation was in an uproar over this murder especially since the communities they lived in were plagued with drug problems and gang violence that came from the sale of drugs.  Mac "Blue Devil" Arthur was loved within the BDN and his killing was seen as disgusting; therefore, the BDN banished Harold Walker out of the BDN permanently.
In September of 1967, a member of the Supreme Gangsters Robert "Red" Lawson, moved to the K-Town section of West Garfield Park.  Lawson created the very first west side section at the intersection of Gladys and Keeler and this would become the headquarters for the west side for years to come.  Ike "King Ike" Turner moved into this same intersection and became the first appointed Chief of this section while Lawson became the first Sergeant of Arms. When King Ike and Red arrived in K-Town the area was already filled with Vice Lords and some other various smaller gangs.  King Ike began recruiting in this area and eventually Supreme Gangsters would spread into the Henry Horner projects and Rockwell Gardens in the Near West Side neighborhood and conflicts soon began with Vice Lords; this is the story of how the west side got their first Gangster Disciples and it all started in West Garfield Park.
In the early 1970s Ike Taylor was convicted of attempted murder and other charges after the shooting of Albert Harris.  In the court case of People vs. Taylor on December 24, 1974, Albert Harris was walking home from a friend's house and was down the street from where he lived. Harris stopped walking when he heard the clicking sound of a gun, he turned and claimed he saw Ike Taylor standing there holding a pistol.  Harris said that Ike said, "It ain't nothing but a Gangster Thing."  Harris then saw another man holding a shotgun in a doorway, then Henry Hearan joined Taylor holding a pistol and Ronald Lawson on the other side of Taylor holding a shotgun.  Harris then claimed that Taylor said, "You're busted," then shot Harris in the throat.  The man with the shotgun in the doorway fired next and shot Harris in his right side.  A fifth shooter suddenly showed up and shot Harris again with a 12 gauge shotgun in the face.  Harris then turned to see Taylor, Hearan and Lawson standing side by side with flashing sparks coming from their guns.  Harris dropped to ground to crawl away but then a sixth shooter appeared with a 12 gauge and shot Harris yet again.  Harris managed to flee under a car as the men continued to open fire on the car as Harris could hear all the pellets striking the vehicle that terrified him so much that cried out for his mother to save him.  His mother heard the frenzy of gun fire and her son cry out then rushed to the scene as the men fled.  Harris was blinded, was left with a difficulty speaking, lost six teeth and was left with scars all over but survived the atttack.  According to court documents Lawson was acquitted of the crime and the other three men not named were never found.  Ike Taylor and Henry Hearan were convicted and both men protested their innocence.  Ike Taylor was able to get the aggravated battery charges removed but the attempted murder charge stuck  (People Vs. Taylor App.3d 396 1974). In later years Ike Taylor would become a positive leader and positive advocate for the Growth and Development concepts of the Gangster Disciples.
In January of 1969, Larry Hoover was approached by Jeff Fort to have a peaceful meeting to discuss a possible truce.  This was not going to end up being a simple peace talk as this was going to turn into a business proposal.  There were over 5,000 members of the Black P Stone nation by 1969 but Jeff Fort was looking to expand especially since there were thousands of Disciples on the streets.  Jeff Fort offered Larry Hoover a major position in the Black P Stone organization as an Ambassador.  Even though Hoover already controlled the entire Gangster Nation alliance, this would actually be a step up since he would be a part of top command of a much larger nation.  The money potential was indeed enticing to the young 18 year old Hoover.  Many claim Larry Hoover accepted the offer and took all the Gangsters into the Stones while other emphatically claim it is not true.  The truth seems to lie in between what each side says.  It is very possible that Larry Hoover did not take the Gangsters into the Stones for a short time in 1969 but someone within the Supreme Gangsters did and that is proven in the court case of People vs. Smith.  The court case proves that Supreme Gangsters were allied with the Stones.  Charles Hoover was brought up in this court case and testified that he met up with the Stone shooters who apologized to Charles because they didn't know he was a "Stone."  Larry Hoover's name was mentioned as the home where Charles Hoover brought wounded men there.  Below is details of this court case.
On May 7, 1969 two Supreme Gangsters Gregory Sanders and Ronald Vandergrift were shot at by Black P Stones at the corner of 69th and Halsted in the Englewood neighborhood.  At the intersection of 69thand Green at address 817 West 69th Street (old shrimp shop no longer there) between 1:30 a.m. to 2:00 a.m. Ronald Vandergrift came across Lonnie King and Charlie "Stone" Smith who were two members of the Double Six Kings which was a Black P Stone gang.  Vandergrift knew Lonnie King so he began walking and talking with him as they walked toward 69th and Halsted.  Lonnie started telling Ronald that he did not belong around there and to stop coming around that neighborhood because Ronald was a Supreme Gangster.  Lonnie had no idea about the Gangster and BPS merger and somehow Ronald could not convince him of it.  Charlie "Stone" Smith then came around the corner and joined Lonnie in telling Ronald he did not belong around there and to keep his Gangsters out.  Charlie was ruthless about it and only said it one time then yanked out his revolver and shot at Ronald two times striking him once in the groin area in his inner left thigh.  After Ronald was shot he ran to the other side of the street, Felix Murry and Gregory Sanders (both Supreme Gangsters too), fled the scene that were nearby.  Ronald did not get far because of his wound and fell between two cars.  Felix Murry then came to help Ronald and as the two men took off King and Smith kept shooting at them and grazed Murry.  The two men ran two blocks away to the corner of 68th and Green and that is where they met up with Charles Hoover at the family home of Larry Hoover.  The two were then taken to the hospital and were treated for their wounds.  The hospital called the Police about the fact they were shot but both men declined pressing any charges or naming their assailants according to court documents.  On May 9th at about 4 p.m.  Charles Hoover was at the corner of 68th and Halsted and saw the shooters Lonnie King and Charlie Smith.  King and Smith told Hoover they were sorry and that they did not know Hoover and the Supreme Gangsters were Stones.  On May 11th Vandergrift, King, Murry, Smith, Charles Hoover and some others attended a "reconciliation meeting" at the Black P Stone headquarters where the shooting was declared an accident due to the fact that the shooters did not know Supreme Gangsters were now Stones according to court documents.  Black P Stone Ranger chiefs were the judges in this meeting.  In June 1969 Ronald Vandergrift was picked up by CPD for jumping bail, Marijuana possession and two charges of aggravated battery according to court documents.  Vandergrift made a deal with CPD and decided to testify all about the shooting and now press charges in exchange for leniency for his crimes.  He also came to this decision because by then the Supreme Gangsters had left the BPSN and were now merged with the Disciples (People v. Smith, ILLINOIS APPELLATE COURT FIRST DISTRICT (2ND DIVISION)).   This opened up a court case of People v. Smith on October 9, 1973 which was a joint indictment of Steven Smith for an aggravated battery charge and was also being indicted on murder charges from June 2, 1969.  He was 20 years old at the time and the leader of the Double Six Kings.
This shooting on May 7, 1969 shows much proof that Supreme Gangsters had allied with the Stones.  This is not just a peace treaty this court case describes how Charles Hoover and the Supreme Gangsters were Stones at the time of the shooting.  It is still very possible that Larry Hoover had nothing to do with bringing the Gangsters into the Stones but there seems to have been a group of Supreme Gangsters that joined the BPSN perhaps led by Charles Hoover.  This group of Supreme Gangsters eventually went alongside Larry Hoover and the rest of the nation to join forces with the Disciples, thus, removing any Black P Stone affiliated Gangsters on the south side.
In June of 1969,  Young 18 year old Hoover met with the Leader of the Black Disciples King David Barksdale.  Barksdale and Hoover would vibe the two realized that Gangster and Disciple concepts belonged together.  A merger was then made between Black King Cobras, Gangsters and Disciples known as the "Black Gangster Disciple nation."  The "Black" honored the Black King Cobras and Jerome Freeman, the "Gangster" honored Larry Hoover and the Gangsters, the "Disciple" honored King David Barksdale and his Black Disciples.  David Barksdale was the King of the B.G.D.N while Larry Hoover was the Chairman and second in command.
On the west side of Chicago in the Henry Horner homes, the Supreme Gangsters were in favor of the Supreme Gangsters being a part of the BPSN.  On the south side all Supreme Gangsters and the whole Gangster nation had merged with the Disciples.  In the Henry Horner Homes on the west side there was much disagreement about this new direction for the Supreme Gangsters.  King Ike was all about merging with the Disciples and declared that west side Gangsters would be BGD but "Moose Man," who was 15 years old at the time, had a different idea and remained loyal to Jeff Fort and the Main 21.  Moose Man and the rest of these Supreme Gangsters were also loyal to being Supreme Gangsters but the fact was the whole bulk of the SGs were merging into BGDN so these Gangsters led by Moose Man kept Gangster concepts while remaining Stone, thus, becoming the "Gangster Stones."  The Gangster Stones would go on and take over a massive portion of the Henry Horner Homes and become brick in the 21 brick pyramid.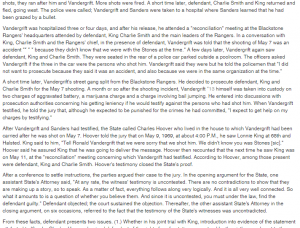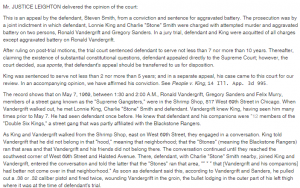 In June of 1969, Vice Lords, Black P Stones and BGDs all got together to form a coalition known as the "Lords Stones and Disciples" or LSD.  This was a unity of the gangs so they could march on the government and demand equal rights, better jobs and against the oppression and poverty in their neighborhoods.  This coalition effectively slowed down gang violence between these three organizations even after CVL INC went defunct in the fall of 1970.  For the rest of 1969 the LSD coalition really set aside a lot of gang wars as they marched on City Hall, Universities and everywhere, until finally in January of 1970 they achieved some success in bringing about "The Chicago Plan" which was "An agreement to implement the employment of minorities in Chicago's construction industry" (Chicago Building Trades Council, 1970).  The final agreement lists 3,000 jobs or training positions in four categories.  But a Coalition spokesman claimed that the actual final agreement called for 1,000 jobs in each category (Chicago Defender, January 13, 1970)" (Panagopoulos, The Role Of Gangs In The Construction Of UIC).  It was soon discovered in the early 1970s that the Chicago Plan was failing about producing like it should and by October of 1973 the LSD coalition disbanded.  Another reason the LSD coalition disbanded is because Vice Lords kidnapped high ranking Didi "sheba" Atkins and raped her repeatedly and skinned her alive.  She was hospitalized for two days before she finally died which brought about horrible agony.  This led to an all-out heavier war on the Vice Lords and the BGDs reached out to gangs of another race for the first time for assistance.  They came across the Ambrose, Simon City Royals and Ashland Vikings for assistance and this was a precursor to the later on Folk nation.  Walouie Limas the leader of the Ambrose deeply hated the Vice Lords and was glad to help.  His organization also hated the Latin Kings that were a Vice Lord ally.  Arab and The Simon City Royals also felt the same way about Latin Kings and Vice Lords and easily offered a helping hand.  You see, in the earlier part of the 70s gangs were already coming together way before Folks and Peoples.
Since 1968, David Barksdale had been working with leaders of the Black P Stones on several failed peace treaties.  By June of 1970, another weak peace treaty was in effect but this was broken on June 7, 1970 when David Barksdale was shot in his side at a bar at 848 West 69th Street (69th and Peoria) in the Englewood neighborhood.  The shooters were Black P Stones.  Larry Hoover was there with Barksdale when the shooting started and acted quickly after Barksdale was shot by quickly getting Barksdale into his car.  Hoover then raced to St. Bernard's Hospital In Englewood and was accredited with saving David Barksdale's life after Barksdale suffering an M-14 bullet wound in his side that passed into his kidneys causing terrible damage.
On February 26, 1973 Larry Hoover ordered the death of William "Pooky" Young, a 19 year old drug dealer in the neighborhood that stole drugs and money from the BGDs.  Larry Hoover then ordered Andrew Howard to kill him and it all happened at 68th and Union in the Englewood neighborhood in an alley, Young was shot 6 times in the head.   On March 16 both men were arrested and charged with the murder.  By November 5, 1973 Hoover and Howard were sentenced to 150 to 200 years in prison in Statesville Correctional Facility in Crest Hill Illinois.  This did not disband the BGDN at all especially since David Barksdale was a free man on the streets.  He continued to run operations until his death on September 2, 1974.
Barksdale died from kidney complications that came about from the 1970 assassination attempt.  .  Barksdale was a smooth operator that did not appear as a nation king in the eyes of law enforcement.  He was not a big money making Don like Jeff Fort, and Barksdale stayed away from the spotlight with high profile big charges that were trying to be brought upon the B.G.D.N in the early 1970s.  Barksdale was a petty criminal on the books according to his rap sheet never being arrested for a felony ever.  He did jail time but no prison time, only spending a few days or so in county jail.  Everybody knew Barksdale was the king of the B.G.D.N and so did the police but the laws could not pin him on anything big.  Here is a list I got from the NGCRC website written by George W. Know of all the crimes Barksdale got arrested for as an adult
The rap sheet begins with the arrest of David Jones, 5 May 65, for Criminal Trespass to Vehicle (dismissed by Judge Comerford). On 13 July 65 the arrest is for "resisting", and again 28 July 65 "Resist. & Disorderly G.B.". The case also went to Judge Comerford.
* The first twist on the real name begins on 2 December 65, "David L. Barksdale" with investigation for aggravated battery.
* The next alias (Davis Jones) comes on 31 Dec 66 for Strong Arm robbery. His gives a home address of 8407 S. Morgan.
*Arrested as Davis L. Barksdale 14 Feb 67 for investigation of Burglary, released without charge, and listed as living at 522 W. 64th St.
* Arrested then again on 26 April 67 as Donise Barksdale for assault and resisting, it was non-suited. Address given: 6452 S. Union.
* An entry on 10 Aug 67 for David L. Barksdale (6452 S. Union) indicates "Appl. Chicago Urban Oppt.", which presumably means an anti-gang program or gang-treatment program.
* David Barksdale was arrested on 13 Sept 67 for possession of marijuana, but it was a case dismissed by Judge Wendt.
* George Walker was an alias used in the arrest on 13 Oct 67 for disorderly conduct; but again the charge was non-suited (Judge Wendt again).
* David L. Barksdale on 1 Feb 68 was arrested for resisting and disorderly conduct (Xparte $25, Judge Cerda).
* On 7 April 68 David Barksdale was arrested for curfew, but again the case was dismissed (Judge Lee).
* On 28 May 68 David L. Barksdale was arrested for aggravated assault, battery and criminal damage to property, but also dismissed (Judge Cerda).
* On 8 June 68 David Barksdale was arrested for disorderly conduct (Xparte $25 & NC, Judge Zelezinski).
* David D. Barksdale arrested 27 June 68 for mob action. Again on 3 July 68 for Agg. battery.
* Arrested 24 July 68 for warrants on the two prior arrests, receives 6 months in the "House of Corrections" (i.e., today known as Cook County Jail) by Judge Zelezinski.
* On 3 August 68 charged with criminal damage to property, but on 3 Nov 68 it is dismissed (Judge Zelezinski). Similarly, 4 August 68 charged with resisting arrest and disorderly, again dismissed (Judge Zelezinski).
* Arrested 7 Mar 69 for a battery warrant, dismissed (Judge Zelezinski). On 4 Sept 69 again for "mob action", again dismissed (S.O.L., Judge Genesen). Arrested 14 August 69 for unlawful use of weapon, and defacing I.D., dismissed (Judge Mooney).
* Arrested 15 January 70 for intimidation, dismissed (S.O.L., Judge Hechinger).
* David Lee Barksdale arrested for resisting arrest on 7 May 70, discharged on 10 Mar 71 (Judge Genesen). Arrested 4 Sept 70 for mob action, held to the grand jury (Judge Dunne). He is indicted for Mob Action by the Grand Jury. Verdict: not guilty (Judge Aspen).
* On 9 Jan 71 arrested for defacing firearms and discharging a weapon, gets 6 months in the county jail (Judge Dunne).
* Next record entry is 12 Jan 71, for traffic court. Arrested 26 January 71 for armed robbery conspiracy, dismissed by Judge Murphy. A 21 June 71 entry for traffic court. A blank entry for 11 July 1972 in the 6th district (CB No. 3586047).
* On 18 Jan 74 John David Barksdale arrested for gambling (dice), dismissed by Judge Neal.
* Last entry, 13 Feb 74 for possession of marijuana and fictitious license plates (3 days in jail, and $100 fine, Judge Murphy).
(2004: National Gang Crime Research Center, Knox)
As you can clearly see Barksdale dodged any major takedowns or did not get involved in big drug dealing operations like other Gangster Disciple leader did.  Barksdale was also known to be more focused on the activist side of the B.G.D operations as opposed to the major criminal enterprise side.
After Barksdale's death Both Jerome Freeman and Larry Hoover each felt they should take over the B.G.D.N now that David had passed.  Freeman still hated Hoover for everything that took place in the 1960s prior to 1969 and wanted nothing to do with him.  Both men had several supporters on each side and neither side would not budge.  Many of Freeman's supporters hated Larry Hoover because he used to be a Stone and felt a former Stone should not run the entire organization.  This brought about a 2 year civil war between BGDs that was pretty bloody in the streets at times.  By the summer of 1976 the war died down and an agreement was reached and about 1/3rd of the BGD went with Jerome Freeman and they were now known as "Black Disciples" to honor David Barksdale's Disciple concepts only.  The other 2/3rd of the B.G.D.N stayed with Larry Hoover and they continued to grow into an organization of many thousands of members.
As the civil war began in 1974, a top leader of the Larry Hoover supporters, Code Black, moved Larry Hoover supporting BGDs into the Robert Taylor homes between Pershing Road and 43rd Street.  This brought the civil war into these projects and wars also intensified with the Cobra Stones that had turf in the Robert Taylors.
Behind bars Larry Hoover became a legend in these state facilities.  He could organize many followers behind him and control gang wars.  He would even meet with leaders of rival gangs like Black P Stones, Vice Lords and Latin Kings to contain rivalries and not let gang wars get too sloppy.  In April of 1978 Hoover led a work stoppage strike to protest bad food that was being served.  After this he was kicked out of Statesville and was sent to Pontiac Correctional Center in Pontiac Illinois (Tyson 1996; Journey of Chicago's Ultimate Street Tough).  On July 22nd 1978 Larry Hoover was said to have organized a prison riot due to unfair conditions that claimed the lives of three prison guards.  Larry Hoover was found not guilty due to lack of evidence.
In 1977, Jerome "Shorty" Freeman was sent to prison for armed robbery.  When he was behind bars during this 5 year stint he set up the nation of Black Disciples behind prison walls alongside Mickey Bull after Bull was incarcerated again in the late 1970s.  The Black Gangster Disciples agreed to complete split behind bars where they would operate as separate nations; however, this did not apply to the streets yet.
Larry Hoover's meetings with rivals and allies along with his ability to lead protest led him to be able to organize a legendary meeting on November 11, 1978.  The leaders of these nations gathered for this meeting: Black Gangster Disciples, Black Disciples, Spanish Gangster Disciples, Latin Disciples, Satan Disciples, Ambrose, Simon City Royals, Almighty Popes (now known as Insane Popes), Latin Eagles, Spanish Cobras, Imperial Gangsters, Ashland Vikings and Two Six.  And for the rivals: EL Rukns (Black P Stones), Vice Lords, Mickey Cobras, Latin Kings, Insane Unknowns, Spanish Lords, P.R. Stones, Latin Counts and Bishops.  This gathering was to discuss a unity and also a divide, an organized divide.  There would be two alliances, the Folk nation and the People nation.  Behind prison walls all Folks were united and all Peoples were united.  They would only be enemies with the other alliance but at any time the nation kings could stop a war or slow it down with meetings just like organized crime does it.
Relations between BDs and BGDs behind bars in the late 70s to very early 80s was very rocky which caused several flare ups of violence.  One such flare up occurred on January 29, 1981 in Statesville prison in unit B.  Black Disciple gang member George Baily resided in this unit along with members of the Black Gangster Disciples.  Baily was allowed a privileged duty known as "cellhouse help" which allowed inmates to roam freely in the cell block without cuffs or escort by guards according to court documents.  Black Gangster Disciple leader Earnest "Smokey" Wilson disapproved of Black Disciples being cellhouse helpers and declared that all BDs should either resign from this position or flip to becoming BGDs.  Wilson even held a meeting in that unit for BGDs and BDs to attend in order to lay out the rules, three BDs including Baily were in attendance and two of those three BDs resigned from that position and listened to Wilson according to court documents, but Baily would not drop the position.  The BDs did not like this rule that Wilson imposed and for two weeks straight they chanted "B.D. Power" every night around 8 P.M. according to court documents.  Wilson then had a meeting with Dirk "Kill Will" Acklin, who as I stated earlier was a BD founder and leader, to express Wilson's dissatisfaction of this revolt from the BDs, but apparently it got nowhere so Wilson picked a fist fight with Baily which got Wilson thrown in segregation, and on January 29th he was returned back to his unit and met with fellow BGDs to plot the murder of Baily.  The BGDs obtained an aluminum bat which ended up in the hands of Fred "Bobo" Collins.  Later on that day Collins struck Baily in the head with the bat repeatedly which caused Baily to be hospitalized, and on February 5, 1981, Baily died according to court documents (People vs. Harris, 1988).
In the year 1981, Michael "Mickey Bull" Johnson was released from prison and was given a new rank as "Bishop" which was a very high position.  He also came out with a message for all BGDs and BDs on the streets that they now were either considered BGD or BD.  If BGDs were Freeman supporters they were now known as Black Disciples, while Larry Hoover supporting BGDs remained as BGDs, this completely ended the Black Gangster Disciples alliance and the name was now only for Larry Hoover supporters.  Mickey also taught BDs the new hand sign which was the "Gates" or the three fingers, this was not the new hand sign.  Mickey Bull also notified both organizations that they were part of the Folk Nation alliance, he then taught BGDs and BDs on the streets all about Folk.  He also reached out to Latino and white gangs on the streets and spread the word of the Folk Nation.  This was also the time when several new gangs joined the Folk Nation.
In 1981, Larry Hoover steered his Black Gangster Disciples in a more political direction while behind prison walls.  Hoover also made bylaws for his BGDs to not harm prison guards or any prison staff unless ordered.  In 1982 he created B.O.S (Brothers Of The Struggle) which is found in Gangster Disciples literature.  He then also began sending out memos to all his top leaders within the BGD organization to better the organization.
In 1985, Larry Hoover felt it was acceptable to start taking in members of other races into the BGD, especially now that the BGDs were growing into more northern parts of Chicago, the suburbs and other states.  The BGDs now were showing up in several if not all Chicago land suburbs by the late 1980s.  In 1987 Larry Hoover was seen as becoming reformed especially after his 1981 policy about not harming prison staff.  This all granted him a transfer to Vienna Correctional Center in Vienna Illinois which is a minimum security prison.  It was in this prison where Larry Hoover now conducted business easier since security was much lower.
Black Gangster Disciple expansion was indeed aggressive ever since B.G.D first took formation in 1969, as BGDs even entered the south suburbs in communities like Harvey, Chicago Heights, Dixmoor, Ford Heights and Robbins.  In the 1970s, BGDs began tearing through the Cabrini Green, Stateway Gardens, Dearborn and Robert Taylor projects aggressively attacking rival gangs and beating them bloody in the court yards of the projects.  BGDs also loved to throw enemies off the breezeway in the 70s and this is what prompted the Chicago Housing Authority to install chain link fences on those breezeways.
By the late 1980s the Gangster Disciples were operating highly sophisticated crack cocaine operations in the Robert Taylor Homes, Cabrini Green high rise and low rises, Dearborn mid-rises and the Stateway Gardens.  The GDs ran the majority of the buildings within these public housing complexes and began a $100,000,000 a year crack cocaine operation just in Cabrini Green alone.  Soldiers in the organization worked around the clock 24 hours a day serving crack cocaine as they worked in shifts.  The GDs ran public housing project buildings with an iron fist as they had armed security that even patted down residents as they came home, GDs also imposed a curfew on residents after hours so they could control the drug trade more efficiently during peak hours which was later at nights.  Rules were very strict, especially in Cabrini Green where Gangsters were ordered to meet in the courtyard each night to do exercises just like in the military.  There was no tolerance for disobeying any rules and refusing to work your shifts or members were severely beaten or even killed for refusing to do security.  GDs were heavily armed in the public housing projects with automatic weapons as they patrolled the project hallways.  The drug sales in the public housing developments gave the Gangster Disciples a massive boost in the overall growth and developing of their organization.  The GDs took advantage of the City and CHAs lack of interest in the public housing high rises.  There were young kids living in the projects poor and struggling in life, the GDs recruited them and turned them into soldiers that were paid and fed while no one else cared.  Drug addicts had already taken over the projects since the 1960s, the GDs were there to feed their need and all this was neglected by the city, it makes you wonder who really is the bad guy, the city and police neglected these developments and the GDs came in to a place no one cared about.
Ever since 1974, the BGDs and BDs were at odds having some truces and some flare up wars but the wars from 1976 to 1989. Between 1981 and 1989 the BGDs and BDs were fairly close allies thanks to Mickey Bull.  They were unified under the Folk nation alliance and often operated symbiotically in the same neighborhoods, especially Englewood.  Black Gangster Disciples were the main controllers of the Folk nation alliance and had to set good examples for the rest of the Folks to get along in the streets.  They would often be the mediators whenever Folk nation gangs would flare up against each other.  By 1989 the BGD and BD alliance in Englewood could no longer survive because too much money was to be made and the drug trade was really large in Englewood over the sale of Crack Cocaine and other drugs.  The two organizations were shooting at each other viciously and some gang leaders struggled to maintain order.  It was at this point that Black Gangsters Disciples no longer wanted to go by "Black Gangster Disciples" they now were called "Gangsters Disciples" as of 1989 city-wide, and it was now forbidden to call yourself a BGD, if you did you would probably get your ass kicked by fellow GDs.  On August 7, 1991 several fatal shootings in Englewood led to the complete demise of the GD and BD relationship on the streets and also the demise of Folk unity (and even People unity) in the streets.  Behind prison walls it was a whole other story as all Folks were to remain unified.
By 1993, the Gangsters Disciples were trying a new political move known as "21st Century V.O.T.E" which was an attempt to get Gangster Disciple members into politics.  To the public it was meant to help rehab neighborhoods and bring about positive change but critics and law enforcement saw it as a way to help expand Gangster Disciple illegal operations.  At that same time in 1993 Larry Hoover was trying to get out of prison and was up for parole.  Over 10,000 members of the Gangsters Disciples gathered at a large picnic in Kankakee Illinois where Larry Hoover gave a speech (not live) to all the GDs there.  He further expanded on "Growth And Development" which was the new term Larry Hoover wanted to use to replace the Gangsters Disciples term.  Growth And Development concepts were to help GDs better themselves and to help better their community instead of fueling the problems that existed in their neighborhoods.  Afterward there was a flood of letters to Governor Jim Ryan pleading with him to allow the parole of Larry Hoover; however, Larry Hoover was denied parole.  Things only got worse in 1995 when the Chicago Police launched "Operation Headache" which took down 39 high ranking members of the Gangsters Disciples including Larry Hoover and Andrew Howard who had been on parole since 1992.  Larry Hoover was brought up on several drug conspiracy charges that dated all the way back to 1970 which was the time when the GDs started to operate a major drug cartel mostly of Cocaine and Heroin.  Hoover and several of his top Generals and Lieutenants were being arraigned on charges of supplying small time dealers, extorting money and running their own drug cartel that was worth millions of dollars.  By the end of the trials in 1997 Larry Hoover was transferred to United States Penitentiary Administrative Maximum Facility in Florence, Colorado which is a super maximum security prison, which effectively cut off over 95% of Hoover's communication with the outside world.
Before the demolition of the Cabrini Green and Robert Taylor Homes housing projects in the 1990s and 2000s, the GDs were pulling in well over $100 million dollars in drug profits on a yearly basis in these buildings (for more details see my Cabrini Green and Robert Taylor histories).  The organization eventually swelled to over 35,000 members.
The Gangster Disciple history is more than just drugs and killing, there is also an activism side of this organization that has been rooted deep since the 1960s.  For many years the Gangster Disciples have preached to young Disciples to keep their lives in order and to live as good men to their families and their community.  Many of the older members that once were convicted of murders and other serious crimes have become outspoken about true leadership and developing young black men into productive members of society.  This could be anything from just being a working man that takes part in Gangster Disciple politics up to being an active member of the crime family within the Gangster Disciples that does not take part in destroying his community and instead works to protect the neighborhood.  The BOS message is still strong today in the hearts of many, but sadly many younger members have lost that message and don't even know who Larry Hoover is.
Please send in 1959, 1960s, 1970s, 1980s and 1990s pics!