Founded
Founded in or near Near West Side
Founding story

Founded in Near West Side in Little Italy on Taylor Street.

Affiliations
;
;

Colors
Black and Light blue
Primary ethnicities
Latino (Mexican)
Symbols
Spear, A, and Knight's Helmet
Symbol usage

Spear with a letter "A" in it, knights helmet (right-facing)

Status
Active
Ambrose were formed by an Italian youth in the Near West Side neighborhood over in the Little Italy section along Taylor Street in about the mid-1950s in order to battle against the Italian street gangs that dominated that strip.  The gang took in Latinos from the start and viciously battled gangs like the Royal Kings and Taylor Dukes.
There is solid evidence that Ambrose was around as far back as March of 1959 when a social services report listed a gang called "Ambrose" that was served by the Hull House which is located at 800 S. Halsted in the Near West Side neighborhood in the Little Italy/University Village section which is right in the old neighborhood.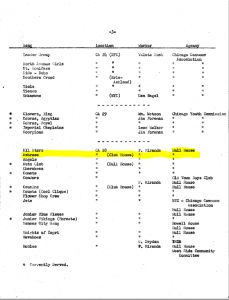 In the year 1960, Ambrose migrated to the Pilsen neighborhood landing at the intersection of 18th and Throop which started an all new chapter for them.
As soon as Ambrose formed in Pilsen, they immediately wanted to dominate all down 18th street and gangs like the Spartans,  Rampants, Morgan Deuces, Satan Disciples and Latin Counts were in their way.  Ambrose immediately made a name for themselves by battling these top clubs all around them while they played baseball in their leisure time.
Ambrose had also arrived in the Little Village area in the early 1960s during the migration wave from the Near West Side. Ambrose found rivarly with the Latin Kings and Two Sixs when they came to Little Village. The only Little Village territory I know Ambrose held was 26th and Kolin.
The 1960s was a time for both Ambrose and Latin Counts to start absorbing smaller clubs, just like Black P Stones and Black Disciples were doing in the black neighborhoods and it was at this point in time when Ambrose built a very strong presence at 21st and Paulina "Wildside."  The gang wars between the two would rage on into the early 1970s.  At this point in time Ambrose was now being led by Louie Limas as Ambrose got involved in the drug trade and so did their rivals the Latin Counts and Satan Disciples and now with drug turf at stake meant more war.
Ambrose began growing into the hundreds as the 1970s decade progressed because the influx of Mexican migration began to swell, while "white flight" was exploding at a faster rate in Pilsen and Little Village.  Ambrose and the Latin Counts successfully stunted the growth of several Pilsen gangs because they were the big shot gangs in Pilsen, just like how the Latin Kings and Two Six were the big shots of Little Village.
Louie Limas was convicted in 1974 of shooting rival Satan Disciple gang members at 1605 Fairfield (16th and Fairfield) in the North Lawndale neighborhood and was put in prison for a few years (People vs. Rodriguez, 1980).  Perhaps while incarcerated or when Limas got out an alliance was drawn with Satan Disciples, Two Six and Two Two Boys that would definitely be prevalent by the year 1978 when the Folk Nation was created behind bars.
Now that the alliance was made official all 4 of these gangs and others in other parts of the city became allies.  Ambrose was one of the first gangs to be invited to join the Folk Nation.  The reason for the early invite was stemmed from a call for help from the Black Gangster Disciples in 1973.  The BGDs asked Latino and white gangs to assist them in taking down several Vice Lords throughout the city due to the fact that the Vice Lords savagely murdered and tortured a high ranking female BGD.  Louie Limas was contacted by BGD leadership and Limas lent a helping hand.  This temporary coalition consisted of BGDs, Simon City Royals, Ambrose and the Ashland Vikings.
Sometime in the mid or late 1970s Louie Limas was growing his organization incredibly and even was said to have owned a liquor store in Little Village around 26th and California, he was then assassinated my Reno "Maniac Mouse" Enriquez of the Latin Counts on August 17, 1979, this story made the newspaper but I am not sure if Enriquez was convicted.  Limas was 26 years old when he was killed; therefore, he was too young to have been the founder of Ambrose.
A major reason for why Ambrose, Two Two Boys, Satan Disciples and Two Six got together and joined the Folk Nation together is because of Latin Kings and Latin Counts. Ambrose and Two Six were fighting with Latin Kings in their Little Village turfs along 26th Street.  Satan Disciples were fighting heavily with Latin Counts near 18th and Ashland In Pilsen, and SDs were heavily fighting with Latin Kings in the Marshall Square area which was also an area where Two Two Boys were going at it hard with Latin Kings.  Ambrose was also going at it on 18th Street in Pilsen with the Latin Counts and both SDs and Ambrose were slugging it out with Coulter Kings in Pilsen.  These gangs realized their worst enemies were the Kings and Counts; therefore they established this brotherhood.
As the 1980s ushered in Ambrose opened turf in the Marquette Park neighborhood along 63rd street.  Ambrose would build a rock solid presence along to 63rd street corridor with sets at 63rd and California and 63rd and Mozart.  Ambrose would then spread further into Marquette Park and open territory in Gage Park and in the South Chicago neighborhood.  Ambrose would also set of factions in the Chicago area suburbs.
In the year 1986 Ambrose would find themselves in the midst of their first interalliance war with a fellow Folk Nation gang that was one of the four south side Latin Folk street gangs that had established a brotherhood.
On November 7, 1986 Two Sixs from K-Town had claimed members of Ambrose shot at them and now Two Six was looking for revenge.  Word was that there was an Ambrose party going on at 6318 South Washtenaw in the Marquette Park neighborhood. At about 8:30 P.M. the Two Sixs sent two female gang members to the party to scope it out, the girls were dressed in black and beige and were unfriendly so they were thrown out, but they gathered enough info to take back to fellow gang members. Later that night Two Six gang members Stoney, Jason Gray, Little Hulk, No-Neck Rabbit and Inky crashed the party that was being held in the basement according to court documents.  They knocked on the door and when it was answered and the door opened, according to court documents, Jason Gray opened fire on the party then Manuel Bobe also known as Little Hulk opened fire as well.  By the time the shooting stopped three people were killed and one was wounded (Illinois People Vs. Manuel Bobe, March 27, 1992).  This started a major war between Ambrose and Two Sixs that never would end. By the year 1988 Ambrose was also at war with fellow Folk Nation gangs like La Raza mainly because La Raza was still heavily allied with Two Six.
Ambrose continued to grow in the 1990s and this brought them new rivalries with fellow Folk Nation gangs in the early 1990s over drug turf.  At this point in time the Folk Nation was no longer unified by 1991 and wars were rampant on the streets and permitted.  Ambrose went to war with the following Folk Nation gangs in the early 1990s; Satan Disciples, Gangster Party People, Racine Boys, Maniac Latin Disciples. The only allies Ambrose had at this point was Two Two Boys and an off and on relationship with the Cullerton Deuces after they joined Folks in 1994.
Ambrose opened turf at 63rd and Francisco after they aggressively recruited the Francisco Boys crew.  Ambrose has also had a long standing relationship with the Gangster Disciples as both gangs were connected in the drug business in Marquette Park.
Ambrose had a lot of potential to grow into one of the top 10 largest gangs in the city but it was the police that majorly stunted the growth and crippled the operations of Ambrose with "Operation Blue Water" that shut down a major PCP lab and caused many Ambrose to end up in prison.  It is because of this police sting that Ambrose lost territory on 18th street, even worse they lost 18th and Throop which was their headquarters and Latin Counts moved in to take over that corner now that the police arrested many Ambrose.
Please send in old school pics but I would love to see some 1950s and 1960s pics!
Questions:
What was Ambrose first exact street corner and what total turf did they have in Little Italy?
What exact year did Ambrose form?
Who was the founder of Ambrose?  What happened to him?
Who were Ambrose enemies in Little Italy?
What corners did Ambrose have in Little Village and what years did they close down?
Who took over leadership after Louie, and what is the time line of leaders after Louie up to the year 2000?
What year did 63rd Street and Marquette and Gage Park chapters open?
What exact year did Ambrose go to war with Satan Disciples, Party People, Racine Boys, MLDs and GDs?  What was the reason for the wars?