| | |
| --- | --- |
| Founded | Founded c. 1950 in or near Near West Side |
| Affiliations | Give details |
| Colors | Grey and White |
| Primary ethnicities | Latino (Mexican) |
| Symbols | Playing Card and Spade |
| Symbol usage | Playing card with 2 of spades |
| Status | Extinct |
The Morgan Deuces were one of Pilsen's first Latino gangs and also one Chicago's first significant Latino gangs.  I do not know a whole lot about these guys accept some very important early history.  I know they formed at Van Buren and Morgan in the West Loop neighborhood Chicago's west side back in the early 1950s.  This was the motherland for the Morgan Deuces, Ambrose and Latin Counts just to name some.  This was the beginning of the Morgan Deuces, I do not know the exact year they formed within the early 1950s nor do I know who the founder was, and I do not know who their early rivals or allies were before they left the old neighborhood.
In 1958, the vast majority of Mexican and Puerto Rican families were forced to leave their homes in the West Loop/Little Italy area due to "The Circle" highway construction and University Of Illinois Chicago extensions.  This move relocated the Morgan Deuces to the Pilsen neighborhood on Chicago's more southern west side.  The deuces were big time Morgan Street lovers; therefore, they made sure they had territory on Morgan Street here in Pilsen too.
Morgan Deuces headquarters was at 16th and Morgan but they mainly hung out at 18th and Morgan and were really close to all the gang banging action along 18th street.  This is where the Morgan Deuces battled Rampants and Ambrose and then they would slug it out with the Satan Disciples on west 18th street.   It became necessary for the Deuces to make allies and that is when they allied up with the Spartans.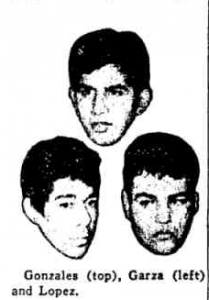 The Morgan Deuces made headline news on in April 1961.  On Tuesday April 11, 1961 Chicago Police had identified a young 18 year gang member named Tony "Crazy Tony" Gonzales (pictured) who was going around robbing stores and people like crazy as he carried a .22 caliber pistol and another hand gun.  On April 6, 1961 Gonzales killed a man during a robbery.  Gonzales was on trial into May of 1962 when he was caught carrying a knife while on trial, what he was doing with the knife, I do not know but my guess is he was saving it for a jail break situation or to attack the judge (Chicago Tribune May 29, 1962, P 15).
Sadly, I do not know much more history on the Morgan Deuces but I know they continued existence throughout the 1960s and 1970s and died out in the 1980s because they were not into getting into the drug game, not only that everybody had retired at that point in time.  There were two successful offshoots of the Morgan Deuces, the Cullerton Deuces and Insane Deuces.