| | |
| --- | --- |
| Founded | Founded in 1974 by Donnie "Buffalo" Tennet in or near Archer Heights |
| Founding story | Founded in Archer Heights, Archer and Komesky (Marzano's Miami Bowling alley) |
| Formerly known as | Almighty Insane Royal Popes 1974-1980 |
| Affiliations | ; |
| Colors | Black and White |
| Primary ethnicities | White |
| Symbols | Reaper, Sickle, Cross, Diamond, Shield, and Halo |
| Symbol usage | Cross with two slashes and a halo on top |
| Status | Active |
The South Side Insane Popes is basically a spin off of the older North Side Insane Popes from Lincoln Square.  The North Side Popes started in 1960 at the street corner of Lawrence and Rockwell in Lincoln Square/Ravenswood.  The gang ended up expanding greatly between the years of 1973 and 1975 by their teenage leader Larry "Larkin" Morris.  Now I will lay out how the Popes came to be on the south side of the city.
In the year 1974 Larry "Larkin" Morris came to visit his cousin Donnie "Buffalo" Tennet that lived around the border of the Archer Heights neighborhood and the Garfield Ridge neighborhood in an area known as "Sleepy Hallow."  Larkin got a little lost and a member of a white street gang known as the "Mad Lads" noticed this and confronted Larkin, then several Mad Lads swarmed around to also confront Larkin and his two Pope friends.  Larkin did not run or show any fear he went ahead and admitted he was a Pope and represented his gang sign.  The Mad Lads were going to smash him but instead Larkin challenged them to one on one fights with their meanest and toughest.  They went into a back alley and Larkin chewed through three of their toughest members one at a time and was ready to take on the leader John "Big John D" Dayton who was more than twice his size (and Larkin was swole and 6 feet tall, just imagine John Ds size!). Larkin told John "Go ahead and kill me motherfucker!  I don't give a fuck, I am a Almighty Insane Pope!"  I will make you hurt worse than you have ever hurt before you kill me!"  As Larkin stood there swollen and bloody and barely able to stand, John said he would not fight Larkin instead he admired him and told him, he and his Popes were welcome anytime to party on the south side, so they started hanging out and drinking together.
15 year old Donnie lived just down the block and witnessed the whole thing and went and told his buddies with such excitement about the story of this bad ass and fearless stone greaser that fought the toughest greasers in the area.  The Mad Lads were feared by people in the neighborhood, even the black gangs in the nearby Leclaire Courts projects had fear of the Mad Lads, and here is this north side kid coming in there and chewing through their ranks, man to man, one on one.  Donnie told all his buddies all about it and they threw some bowling games at Marzano's Miami Bowling alley.
One night these kids were hanging out in one of their basements at crazy Franky's house. They decided to take after the Popes of the north side but added a moniker of "Royal."  The full name would be "Almighty Insane Royal Popes" but would have no affiliation to the Simon City Royals.  Perhaps they got the idea of the "Royal" from the Royal-Pope alliance between Simon City Royals and the Popes on the north side.  Donnie then asked his cousin if the name and colors of black and white was ok, and Larkin said it was no problem, and there the South Side Almighty Insane Royal Popes were born.
An excellent treat was that Big John D and some of the other bad ass Mad Lads joined this new Royal Pope thing.  The Popes hung out at one of two locations, one was Marzano's Miami Bowl located at 5023 S. Archer Ave (Archer and Komesky) and Archer Park at 4901 S Kilbourn Ave (mainly at 49th and Kilbourn) these were their first sets.  Donnie "Buffalo" would assume leadership with his right hand man Pedro "Rican."  The Popes' biggest enemies were Black Gangster Disciples, Vice Lords, Latin Kings, Two Six and the Satan Disciples.
In April 1975, Larkin was gunned down on the Mayfair streets of the Irving Park neighborhood, after this, relations between north side and south side would slowly grow more distant.  After a few years Big John D retired from gang life and joined the military while some other original LA Boys that flipped Pope did the same thing within a few years of Pope Inception.
In April, 1978 the Folk Nation and People Nation alliances were formed in Statesville Prison.  These were two alliances of the biggest and oldest street gangs in the city.  The North Side Popes' biggest allies the Simon City Royals along with the north side Popes themselves joined the Folk Nation in prison.  The Popes up north were technically allies with the Satan Disciples and Two Six which were South Popes' worst enemies.  The Black Gangsters Disciples started this whole Folk thing and that was another terrible enemy of the Royal Popes.  I am not sure if the Royal Popes were automatically Folks between 1978 and 1980, but by 1980 they definitely wanted no part in being Folks.
In the 1970s, Popes had a reputation with the police for selling PCP, committing box car robberies and car thefts.  According to Pope gang members when interviewed on June 15, 1978 for the Chicago Tribune, they were just "Party Greasers"  that loved to drink and smoke Marijuana while protecting the neighborhood but police said otherwise.  The Popes would use the money from these activities to buy guns, knives, brass knuckles and cars.  They also bought lots of marijuana and alcohol with the money.  In the summer of 1977 the 80 members of the gang polished off 49 cases of beer.
By the late 1970s, Pope turf had grown to be from Archer Avenue to 47th Street and Cicero Avenue down to 55th Street.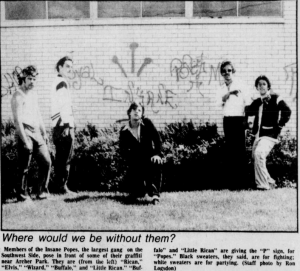 The Royal Popes made the difficult decision to join the rival People Nation alliance in 1981 because their members needed protection behind bars and they refused to link up with Folks.  The Royal Popes then became known as "Almighty Insane Popes" and dropped the "Royal" from their name.  At this point wars with Latin Kings and Vice Lords would begin to slow down until they came to a screeching halt in 1983 when Folk and People nation bylaws and identifiers were enforced on the streets. The Popes would now establish close relations with Latin Kings, Latin Counts, Vice Lords and Twelfth Street Players.
As the 1980s would progress, the Popes were growing at an incredible rate.  They opened more sets in Archer Heights and Garfield Ridge.  Garfield Ridge new sets included turf around Vittum Park at 50th and Leclaire to Lavergne.
The Popes also moved into the clearing neighborhood conquering turf along 63rd and 62nd streets "Grim Town" and "Popes Alley." They would also open territory in the Ashburn neighborhood at 83rd and Homan "Vatican City."  One of the most notorious sets to open was 34th and Hoyne (Hoyne Park) in the Mckinley Park neighborhood and 34th and Hamilton.  Sets also popped up in the Canaryville section of the New City neighborhood at 48th and Halsted.
A set sprung up in the Gage Parkneighborhood at 53rd and Kedzie and finally 46th and Whipple in the Brighton Park neighborhood.  The 1980s were the best decade for the Popes and it was the time period of the leadership or Mike "Lord Conan" Hamilton who brought about great expansion and this would even take them into suburbs like Bridgeview and Burbank.  The Popes were a fighting gang not a drug dealing gang like their enemies.
In 1989, the Popes experienced a rebelling faction that became known as the "Almighty Popes" who shaved off the "Insane" out of their name. This group was started by Chris "The Kidd" Hamilton and Martin Lorenzo. The Latin Kings and Latin Counts went to war in 1991 and the Almighty Popes took the Counts' side of the argument while the Insane Popes took the Latin Kings' side.  The APs took over 5 sets of IPs, 46th and Whipple, 49th and Long, 50th and Kilpatrick, 51st and Kostner and 71st and Harlem in Bridgeview, IL.
The APs were not a big thing in the early 1990s but by 1994 they had swelled into membership in the hundreds and APs and IPs became enemies.  The APs even had a different hand sign, colors and symbols but still rode with the People Nation.
In November of 1995 a big story made headline news as Almighty Popes gunned down two 13 year old girls as they were trying to shoot up some Justice, IL Ridgeway Lords.  Even though the APs did it and the IPs told everyone and the cops that it was the APs not IPs, law enforcement did not care, all "Pope" gangs were the target on the south west side, this lead to IPs losing a lot of turf in the later 1990s and into the 21st century.  The APs dissolved in 1998 but the old IP turf could not be resurrected.
Archer Heights fell along with Canaryville and some of Mckinley Park.  The Popes held their turf in Clearing despite the fact that the AP shooting happened right there.  The IPs also kept 1 set from Garfield Ridge at 51st and Kilpatrick.  Police presence, retirement and flipping to Latin Kings led to the decline in Pope numbers.
In 2002 Mike "Conan" Hamilton retired from gang activity; therefore, the Chicago Crime Commission book is dead wrong listing him as the current leader, he is NO LONGER a Pope but now a law abiding citizen just like many former Popes.
Please send in old school pics.   1970s pics will be especially appreciated!
Questions:
 What year did each set open up?
What happened to Buffalo?
What year did Lord Conan take over leadership?
What year did each set close down?