| | |
| --- | --- |
| Founded | Founded in 1980 by Rudy Rios in or near South Chicago |
| Founding story | Founded in South Chicago, 88th and Houston |
| Affiliations | ; |
| Colors | Black and Light blue |
| Primary ethnicities | Latino (Mexican) and Latino (Puerto Rican) |
| Symbols | Winged Heart, Devil Tail, Devil Horns, and Gangster Crown |
| Status | Active |
The Spanish Gangster Disciples were said to have been founded in the year 1974 in Statesville Correctional facility when Larry Hoover, the leader of the Black Gangster Disciples blessed Rudy Rios with an organization directly governed and protected by the BGDs.  Rudy Rios was a member of the Maniac Latin Disciples from East Humboldt Park and the MLDs were always linked to the Black Disciples since 1966 when Founder Albert Hernandez got the blessing from the Cabrini Green Black Disciples to start a Hispanic gang within the Black Disciple alliance.  In the year 1974 after David Barksdale died and Larry Hoover was in prison the B.G.D.N alliance was beginning to fracture as a group of B.G.Ds that only followed Disciple concepts stopped honoring B.G.D.  The Maniac Latin Disciples and Rudy Rios wanted to stand on the side of Larry Hoover and the majority of the B.G.D.N and became a Hispanic group of B.G.D.  This was only for the prison system and when SGDs were released from prison they went back to being MLDs.
In the year 1981, both the Conservative Vice Lords and Black Gangster Disciples decided to directly govern Hispanic offshoots of their organizations called the Spanish Vice Lords and the Spanish Gangsters Disciples.  Not only did both these gangs hit the streets in 1981 but they also landed close in proximity to each other.  The SVLs landed in the South Deering neighborhood while the SGDs ended up at 88th and Houston in the South Chicago neighborhood being led by Rudy Rios after he was released from prison.  Now there was an actual gang called "Spanish Gangster Disciples," and it was for on the streets of the south side where no MLDs were set up.
In the summer of 1983, the Spanish Gangsters Disciples formed on the north side on the corner of Clark and Olive in the Edgewater neighborhood.  It is said that a group of MLDs and Hispanic members of the GDs got together to create this entity and just so happen to name it SGD but that is not exactly what happened.  "Shaky" was the north side SGD that first got the SGDs on the north side acquainted with Spanish Gangster Disciple concepts after he did time in prison as a Milwaukee Kings gang member.
Olive and Clark was dominated by the P.R. Stones street gang and once they found out about SGDs a nasty war broke out which inevitably ended up being too costly of a gang war especially since the Stones were there first.  The SGDs were more about making money and money being made and Clark and Olive was not suitable so they moved operations to Early and Wayne which was close to Senn High School.  At this new street corner they were selling major amounts or drugs, especially Marijuana, out of two apartment buildings that faced each other.  Some of the customers were other Folk Nation gangs either from the area or outside the area, and funny enough there were even customers that happened to be Latin Kings who would buy large supplies from the SGDs to distribute on their own.
In 1985, the SGDs opened new territory up north at the corner of Rosemont and Broadway "Original North Side" as they went to colonize the more northern part of Edgewater.  There was also now an established leader for this north side chapter, "Shaky" who opened this set alongside the "Original 7" which was the original 7 members that set up Clark and Olive in 1983.  A little while later the SGDs opened up at Lakewood and Granville and congregated near Hayt Elementary School.
In the late 1980s and into the early 1990s, the SGDs opened territory in the neighboring neighborhood to the north, the Uptown neighborhood at Lawrence and Winthrop and Broadway and Cuyler "Uptown Green."
The SGDs also traveled further north and opened territory in the Rogers Park neighborhood at Glenwood and Columbia and Lawrence and Harding "Lawrence City." The SGDs also made new territory over in Albany Park at the corners of Drake and Ainslie and Sunnyside and Kimball.  On the south side the SGDs opened turf at 89th and Baltimore in South Chicago along with 26th and Tripp in Little Village and 47th and Wolcott in the Back of The Yards neighborhood.
During this time period of expansion in 1989, the Spanish Growth And Development concepts were now being rooted into the "Latin Folks."  There was a major, but secretive attempt to draw all Latin Folks to buy into these concepts and organize under it.  Apparently the Italian Mafia was assisting the Latin Folks or Spanish Growth And Development with growing this concept.  It was a major calling of 43 Latin Folks street gangs to register with SGD but only 17 gangs accepted the union (The Insane Chicago Way, John Hagedorn P. 266).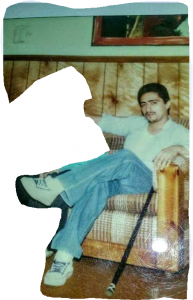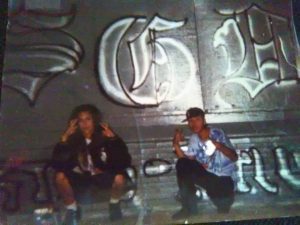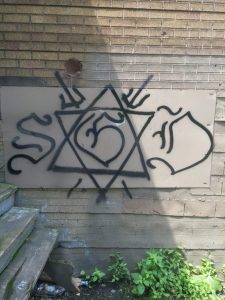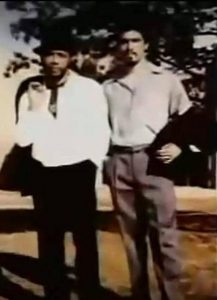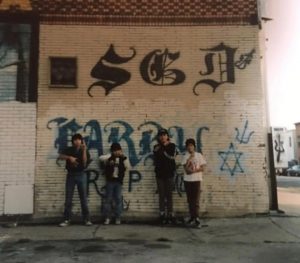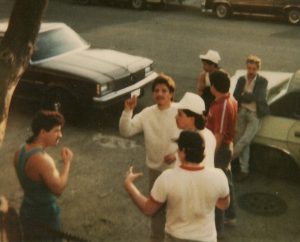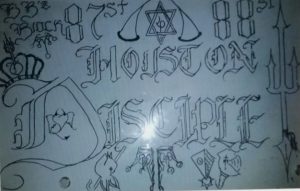 The early 1990s was a crazy time for the SGDs that involved both growth and declination.  First, there was the murder of the organizations' founder Rudy Rios which left Rudy Guzman in charge then right after that he was killed.  The power then went to "Lil Dee" to run street operations while Antonio "Dee" Quintero ran things in the joint (Chicago Tribune, March 31, 1993 George Papajohn).  This was for the south side chapter.
As for the north side, the "Original 7" had all ended up serving prison terms and power was assumed by a member of the Latin Eagles that flipped to become a SGD named "Demon."  Demon saw that the SGDs were weakened by these incarcerations and took this opportunity to come to this temporarily weakened gang and become the leader.  In one of his first orders of business, Demon declared war on the Latin Eagles, his former gang, probably because of old animosity.  Demon was a greedy leader that taxed his fellow gang members heavily on drug sales and many SGDs resented this, especially the older members.  Demon knew about this animosity so he decided to increase his power in order to show up those that disagreed with his power; therefore, Demon colonized the suburbs of Elgin, Prospect Heights "Piper Lane," Highwood, Wheeling, South Holland, Whiting Indiana and East Chicago Indiana.  In the suburbs he found young and impressionable kids that were eager to gangbang and would have no issue paying the high taxes because they did not know any better.  He could also get them to kill for him if the older members objected too much. Demon was said to be greedy and kept a lot of money for himself even money that was supposed to be used for gang operations.
In September of 1991, the Chicago Police started watching the SGDs at 88th and Houston because they had become so violent that residents were in fear.  The SGDs were in nasty gang wars with Latin Kings, Latin Counts and Latin Dragons in the vicinity and this caused the neighborhood to be all shot up with even non gang banging residents having bullet holes in their walls and windows (Chicago Tribune, March 31, 1993 George Papajohn).
After the summer of 1992 things really heated up badly as bullets were flying and bodies were dropping.  "Operation Houston" was now in full effect and on March 30, 1993 7 members of SGD were arrested including Antonio Dee Quintero who was just released not too long before while "Lil Dee" got locked up (Chicago Tribune, March 31, 1993 George Papajohn). These key arrests severely crippled all south side operations especially since Dee appointed Demon to run everything now.  In the joint before this big arrest, Quintero was trying really hard to unify the Latin Folks and expand Spanish Growth And Development concepts; however, Demon ended up working counter-productively and waged war on fellow Folk allies such as Imperial Gangsters and Maniac Latin Disciples.  Both Dee and Lil Dee were released from jail or prison not too long after and were discussing what to do about Demon as he was trouble and seemingly ruining the organization.  Demon got wind of this and recruited his suburban soldiers to kill Lil Dee but the assassination failed, but a short time later another assassination attempt was successful; however, the murder was blamed on rival gangs.
As time went on, SGD lost a lot of territory due to police presence, gentrification (mainly in Edgewater) and lack of effective leadership, not only that, in 1999 the Spanish Growth And Development experiment failed and the Italian Mob withdrew support.  88th and Houston fell apart and Ambrose grew a set on that corner.  The original north side set of Early and Wayne fell mainly to yuppies moving in.  Broadway and Cuyler ended up becoming the SGD major set.
Please send in 1980s and 1990s pics!
Questions:
 What year was Rudy Rios killed?
What year was Rudy Guzman killed?
What happened to Shaky?
What years were Dee and Lil Dee killed?
What year was Demon removed?