Settled by
Provide info
Year infiltrated
Provide info
Crime impact
Part
Worst areas

29th Street to Home Avenue on the north, Ogden Avenue on the south, Gunderson Avenue on the east, Harlem Avenue on the west. Second is 18th Street on the north, Cermak Road on the south, Ridgeland Avenue on the east, Kenilworth Avenue on the west

Suburban projects

None
Berwyn indeed is one Cook county suburb often thought of to be just as violent and dangerous as Cicero.  If you talk to many people in Chicago land about this suburb you may be told to steer clear and that Berwyn is downright dangerous.  Granted, Berwyn has had some craziness over the years and is one of the first Chicago suburbs to experience gang activity, hence, why I have dedicated a section to this suburb, but it has never been nearly as rough as Cicero or Chicago has ever been.
In the year 1846, Theodore Doty became the first resident of the area as he settled along present day Ogden Ave.  Then in 1856 Thomas F. Baldwin purchased a large tract of land near present day Ogden Ave, to create a community he wanted to call LaVergne.  LaVergne did not go successfully since the land was mostly swampy and marshy.  It was not until Baldwin's daughter sold the land to Marshall Field in 1879 that houses began to be built.
In the year 1890, Charles E. Piper and Wilbur J. Andrews purchased more land and eventually developed the area more and ended up naming the new community Berwyn, which was named after a beautiful subdivision in Philadelphia, PA.  In the year 1908 Berwyn was officially incorporated and from there the north side and south side of the town developed more, but the central area did not develop until the 1920s.
In the 1950s and 1960s Berwyn had multiple greaser gangs that came and went, more so than any average suburb but they were not infiltrated by Chicago based or Cicero based gangs until the early 1980s.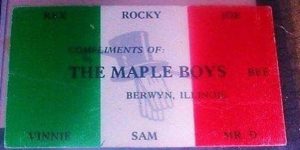 In the late 1960s, gang activity started in the neighboring suburb of Cicero in response to the violence of street gangs on the west side of Chicago, especially after the Martin Luther King riots of 1968.  Berwyn soon caught on to the greaser gang banger appeal that now was big in nearby Cicero.  The Cicero Esquires street gang began hanging out in Berwyn by 23rd Street, and soon Berwyn had their own gang known as the Berwyn Greasers.
Berwyn's gang activity sharply increased beginning in the early 1980s as gangs like Two Two Boys and Latin Kings moved into the suburb, that were also settling Cicero.  As the decade progressed more gangs settled in Berwyn and more gang issues developed mainly on the north side of the suburb just north of Cermak Road to Roosevelt Road.  This part of Berwyn directly borders the notorious Parkholme section of Cicero which was one of the first areas to be heavily populated by gang activity, now those gangs were crossing over Lombard Ave into Berwyn.  Satan Disciples, Two Six, Noble Knights, Twelfth Street Players, Bishops and Latin Counts all spilled over from Cicero and took territory in Berwyn as they fought viciously with Latin Kings and Two Two Boys who were there first.
The early 1990s and mid-1990s saw the most intense gang activity in the suburb as more gangs moved in like Spanish Cobras, South Side Insane Popes, Gangster Party People, Insane Unknowns, Latin Pachucos, Sin City Boys and Maniac Latin Disciples.  A Berwyn based gang also developed called Latin Mafia.
Law enforcement procedures were stepped up tremendously by the late 1990s and the crime rate and gang activity dramatically decreased after Berwyn got tough on gangs.  Although Berwyn got wild back in the 1980s and 1990s it never came even close to being as wild as Cicero, by the 21st century Berwyn has pulled in low crime rates.